They say it's your birthday, nah, nah, nah, nah it's my birthday too yeah…..

I love birthday week. I say week, because by the time all the cards roll in, and gifts, emails, songs, lunches, happy hours and dinners are received it usually fills up an entire week. My week has started today. Thus far I have received two great bead bracelets from Sarah (even if I did get them a month early), a great turquoise necklace and a darling purple glass heart bracelet from T~. Oh, and they were from Emeralds, so they had all that bright beautiful raffia ribbon on the box. Just the ribbon alone made the girl happy. I've got two precious birthday cards on my desk, birthday pizza for lunch, office cake at 3:30 and birthday house white at Saba at 4:30. I've gotten all this and my actual birthday is still two days away. I'm so lucky!

I have brunch plans at a fabulous latin pastry place in Dallas on Saturday with two of my favorite girls in the whole world, and then birthday dinner with my family on Sunday. Birthdays are SUCH a big deal to my nephew, so he always goes way out with party hats and dessert. I can't wait to see their precious faces!

He we were a year ago.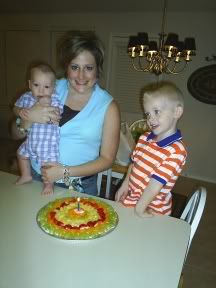 My how the time flies……….